Hey y'all,
Recommendations for Your Next Anime Fix
If you're like me, you love watching anime. It can take you on exciting adventures, introduce you to new worlds and characters, and make you feel all the emotions. But sometimes, finding a new anime to watch can be overwhelming. That's why I've compiled a list of some amazing anime recommendations that you might not have seen before.
Before you ask, try these – Anime recommendations
First on the list is the anime series called "Another". This show follows a transfer student named Kouichi who enters a school where a mysterious curse seems to take the lives of one or more students every month. This show is full of suspense, mystery, and has a dark tone that kept me on the edge of my seat.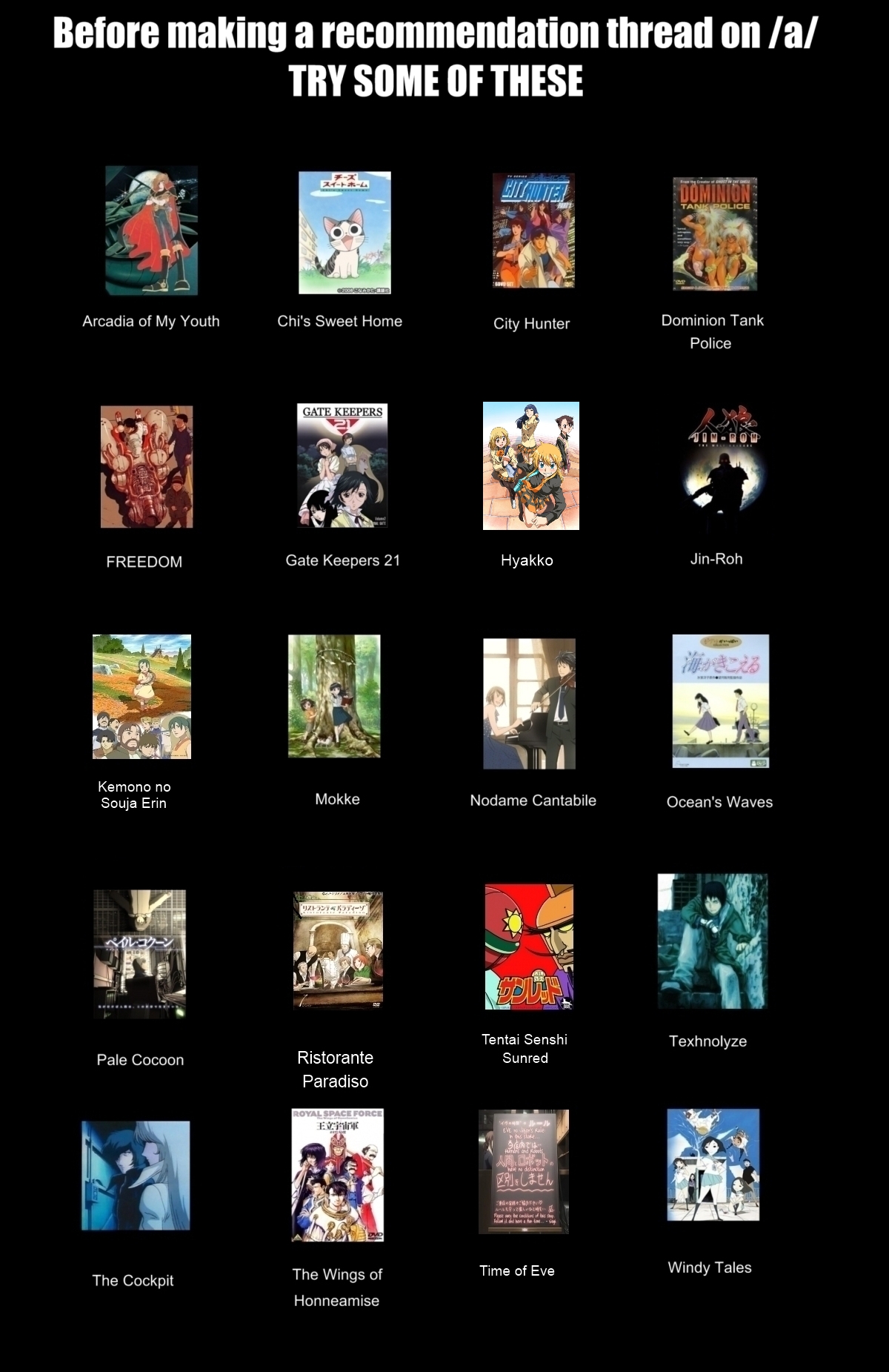 Next up is "Psycho-Pass". Set in a dystopian future, society is controlled by a system that measures a person's mental state known as their "Psycho-Pass". The show follows the story of a new inspector, Akane Tsunemori, and her journey to uncover the truth behind the system. This anime addresses issues of crime and justice in a unique way and raises some challenging ethical questions.
Anime/Manga Recommendation Charts Collection v1.1
Another great anime recommendation chart collection that you must check out is the "Anime/Manga Recommendation Charts Collection v1.1". It gives you a wide variety of options ranging from genres such as comedy, romance, mystery, drama, and many more. Some of the top recommendations include "Fullmetal Alchemist: Brotherhood", "Death Note", "Attack on Titan" and "Cowboy Bebop".
If you're in the mood for something entirely different yet intriguing, "Wolf's Rain" is a must-watch. The show takes place in a world of ice where wolves are thought to be an extinct species. However, there are still some wolves left, and they stage a rebellion against humanity to reach the mythical place they think is a paradise known as the "Rakuen". This anime has a beautiful, haunting soundtrack, and it will leave you wanting more.
Last but not least, if you're looking for something with a high dose of laughter, "One Punch Man" is the anime for you. This show follows the story of a superhero, Saitama, who has the ability to defeat any opponent with just one punch. Yes, you heard it right. The unique plot, crazy characters, and epic battles make this one of the most addictive anime series that I've ever watched.
In conclusion
There you have it, folks – 5 anime series that you won't want to miss. Whether you're into suspenseful thrillers, deep, thought-provoking dramas, or hilarious comedies, there's something for everyone on this list. Make sure to watch them all and let me know what you thought of them. Happy binge-watching, and until next time!